Eliminating Repeat Patterns: A Case Study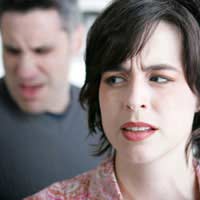 Kay Evans, 44, has two failed marriages and a string of unhealthy relationships behind her. The sales consultant and mother of two, from Ilford, Essex also has a history of depression, which stems from growing up in a dysfunctional family – her parents divorced when she was two and Kay spent most of her childhood in and out of foster care. Kay very much feels her background set her up for failure in adult life, and for a long time she struggled to accept that there were ways to improve her situation.
"I've been on anti-depressants and tried counselling, but didn't feel I was making the sort of progress I wanted to be making. I know these things take time, but I've spent years and years getting nowhere fast" says Kay.
Doctor's Orders
Kay was referred to a hypnotherapist, after she had been through GP and psychiatric assessments. Over a period of 6 months Kay attended weekly sessions and practiced self-hypnosis techniques at home. The therapist used hypnotherapy to tap into Kay's past so that she could identify the root cause of her issues. Once this had been established Kay was able to focus on using techniques that could help her eliminate repeat patterns of behaviour.
Kay explains, "I was shown how to use Emotional Freedom Technique (EFT) methods of controlling anxiety, fear and panic. It was like having access to a fast relief pill, which would stop my feelings growing. All I had to do was tap on certain points on my face, collarbone and hand and it would make me feel better straight away."
Using Emotional Freedom Technique enabled Kay to deal with feelings that drew her attention to experiences from her past. Finding a way to limit the times this happened was what she most hoped to achieve. Kay's hypnotherapist scripted positive affirmations that were used to instill a sense of release and calm. By changing and adapting these affirmations regularly Kay began to resist holding on to her previous beliefs.
Home Work
At home Kay used simple affirmations to boost her negative self-esteem. Her aim was to remove her feelings of low self-worth that created the negative belief that she would keep repeating the same relationship patterns over and over again.
"My confidence has always been really low, and the relationships I've had didn't do anything to raise that. After my last relationship failed I just knew I had to do something to remove all the negativity that had been growing for years. Because if I didn't then I knew I'd soon be heading for yet another failed one."
Support System
Although Kay's issue was confidence based, the root cause was a negative self-belief that whatever she did wasn't good enough. Reprogramming her mind, through the use of hypnosis and EFT, Kay began to see changes that inspired her to keep working at the issues. Little by little, and with the support of my close family and friends, she began to view herself as a confident woman with plenty to offer.
"It took a year of focused thinking before I could finally let go of all my beliefs, but it's been worth the time and effort. I've now met a lovely man who makes me feel like the special person I know I am and that proves to me that anyone can change the things they don't like about themselves."
You might also like...