Less Stress, More Relaxation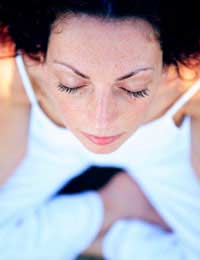 In order to reduce stress there must be more opportunity for some form of relaxation. The deeper the level of relaxation the more benefits an individual will draw from the experience. Self hypnosis offers a safe, natural method of relaxing the mind and body, as well as an effective stress management solution.
Using Self Hypnosis
Self-hypnosis is a practical, easy to learn method of focusing awareness. Its aim is to relax the body so that your mind is freed of thoughts and concerns and is open to raised levels of concentration. This form of deep relaxation can be an intense experience.
Once the body is fully relaxed, the unconscious mind is able to counter stress by letting the stress hormones subside. A script of positive affirmations can then be absorbed.
Combining Powerful Tool
Meditation, visualisation and self hypnosis all provide powerful tools that can be used to effectively induce instant relaxation. All that is generally required is a quiet space, a comfortable chair and sufficient time to practice the skills.
Although therapist facilitated hypnosis produces excellent results it is a much more expensive way to access deep relaxation and controlled, heightened awareness. Investing in reputable self hypnosis CDs and MP3s provides a much more cost effective way of exploring the many benefits hypnosis has to offer. Combining sound with personal visualisation also expands the relaxation experience and creates a powerful way of addressing any stress issues.
How To Relax
Having selected a suitable, quiet location in which you can practice and explore self hypnosis techniques, relaxing into a chair, as the instructive CD begins playing, is the next step. Closing your eyes, and becoming aware of your breath enables your mind to slowly unwind as your muscles begin to relax.
As the direct language commands suggest a deepening of your relaxed state your mind will become more susceptible to instruction. Positive affirmations like "you are feeling more and more relaxed" will create the desired effect in your body. Specific stress management CDs will provide further affirmations to relax your body and mind further, and may offer suggestions and reminders that can be used in your more conscious daily routine.
How Much Time?
Simple self hypnosis sessions can last as little as 10 minutes, although the more time that is readily available the better the results achieved. However, short 10 minute bursts of self hypnosis are a good way of recharging your mind and body throughout the course of the day. This can be done in any comfortable location – whilst seated at your desk, in a parked car, in a doctor's waiting room etc – as the simple visualisation techniques are quick and easy to master.
To speed the process up further listening to a self hypnosis MP3 means you have a guided instruction, so do not even have to think your way through the relaxing meditative process. You simply plug in and unwind.
Once you are comfortably relaxed you may enjoy the deep relaxation experience for however long you like. Daily practice is beneficial to any highly-stressed person, although getting into a routine of regular practice is also a good discipline for anyone who enjoys a little bit of timeout.
You might also like...