Dealing With Sexual Abuse With Hypnotherapy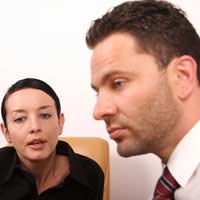 It is estimated that up to 20% of girls and 10% of boys have been sexually abused by the time they reach puberty. This is a staggering statistic, but thankfully it is a subject that over the years has been brought out into the open, so much more that victims feel much more confident that they will be listened to. This means that so many more of those who have been subjected to sexual abuse are willing to seek help.
Finding the Right Therapist
The most important thing when working with a therapist is to feel comfortable with them and that no matter what you tell them they will be non-judgmental. It is also advisable to seek a therapist who has specific training in working with sexual abuse or has experience with doing so. Also consider whether it matters to you that your therapist is male of female. In the absence of a personal referral, all the professional hypnotherapy bodies should have a list of their members who work with sexual abuse.
Legacy of Sexual Abuse
Anyone who has been sexually abused has experienced a betrayal of trust. In the majority of cases the abuse is known to the person abused and may be a parent, sibling, other relative or family friend. This can leave you with very confused feelings. A trusted adult is not supposed to do that to you. You may experience guilt, some kind of sense that you invited it, shame, anger and feelings of worthlessness.
In order to cope with the abuse which might have been repeated, you may have dissociated. Some people describe that as a sense of having left their body and observed what happened to them. This is a common way of coping. You may have a life now that is functioning quite well on some levels but the evidence of this dissociation shows itself in various ways. For example, you may have intrusive thoughts, have difficulty forming a satisfying relationship or use alcohol or drugs to block out uncomfortable feelings.
Treatment
Once you decide to get treatment and find a hypnotherapist you feel comfortable with, the very act of being able to talk about it with someone who is non-judgmental will begin the process of healing for you. A well-trained hypnotherapist will work very sensitively with you and at a pace that suits you.
One of the approaches your hypnotherapist is likely to take is to use an Inner Child technique. This is a process by which you use your imagination to draw on your ability to reassure the part of you that was wounded by the abuse. Using this process you can give the wounded part of yourself positive messages to counteract feelings of low self-worth. Your hypnotherapist will also be giving you post-hypnotic suggestions whilst you are in the hypnotic state, to build feelings of self-worth and self-esteem.
Every client is an individual and treatment protocol is individualised. Once your hypnotherapist deems that you are strong enough as a result of the work you have been doing together, he or she may address some or all of the incidents of abuse in order to bring healing to those situations. Remember, your hypnotherapist will always work at your own pace and in accord with your wishes.
Other Techniques
Many therapists who work with sexual abuse are trained in other protocols which they may use to help you lay the past to rest and reclaim your power. These might include EMDR which stands for eye movement desensitisation and reprocessing, which is a protocol designed specifically for dealing with trauma. Some therapists are trained in EFT which stands for Emotional Freedom Technique which is simple to use and which you can use yourself at home. Information about both of these techniques is available on the internet.
The most important thing to remember is that you did not ask to be sexually abused. As long as your life is suffering in some way as a result, your abuser has power over you. You deserve to be free. Taking steps to heal yourself through hypnotherapy may be one of the most important decisions you could make for yourself.
You might also like...