Sleep Well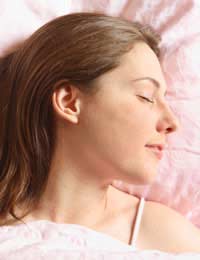 Many of us take sleep for granted but what if getting a good night's sleep is a problem for you?
Sleep Deprivation
Good sleep is a necessity for our bodies. During sleep the body repairs and rebuilds itself. Important hormones such as growth hormone are secreted. Sleep also provides your mind with the opportunity to process what has happened during the day.
When you are unable to sleep well, you are likely to feel low in energy during the day so that everything feels like an enormous effort. You may feel moody and irritable. Your concentration is affected and you are more likely to make mistakes. Falling asleep at the wheel of a car is not as uncommon as you might think. Feeling tired may affect your diet in that you eat sugary foods to get a burst of energy. Unfortunately, due to their adverse effect on blood sugar levels, you feel even more tired after eating these foods.
I Can't Sleep
Those who have trouble sleeping will typically have one or a combination of patterns. Some people have trouble dropping off to sleep. Even if they feel sleepy at bedtime, they may be wide awake when they lie down to sleep. Usually these people are anxious about sleeping and inability to go to sleep becomes a self-fulfilling prophecy. Some people go to sleep but wake up in the early hours unable to get back to sleep again. Others sleep fitfully throughout the night never achieving good quality sleep.
Sometimes there are medical reasons why a person has sleep difficulties and these must be eliminated by a doctor. On occasion, there are psychological reasons. Early morning waking can be experienced by those with depression. In other cases, lifestyle demands are responsible. Someone who is "on call" during the night for example may worry about oversleeping and interrupt their ability to sleep. Waking to attend to babies and young children can cause a caretaker to develop disrupted sleeping patterns. Occasionally, someone will be subject to recurring dreams or nightmares that wake them on a regular basis.
Sometimes sleep difficulties can be corrected by making lifestyle changes. Attention to caffeine intake during the day, not eating a large meal within 3 to 4 hours of bedtime, making sure you exercise regularly and having a calming change of routine half an hour or so before going to bed can all help.
Despite these measures however, there are those for whom poor sleeping has become a habit and it is here that hypnotherapy can be enormously helpful.
Sleep Well With Hypnotherapy
One of the reasons hypnotherapy can work very well with sleep difficulties is that the hypnotic trance is akin to the hypnogogic state which precedes sleep. For people who have difficulty getting off to sleep, experiencing this state is important. For this person, learning to put themselves into this state through self-hypnosis is an important aspect of treatment.
Whatever your particular needs with regard to sleep, treatment will be tailored specifically to you. Sometimes there are unresolved issues that need to be dealt with. Sometimes there are current stresses that need attention. Occasionally the inability to sleep may be the only way the person knows to avoid a particular activity in their lives. Normally you will learn self-hypnosis or some other technique aimed at helping you move into the hypnogogic state. For those of you with recurring dreams or nightmares, hypnotherapy can work to resolve these for you.
Sleep is so important. If you have difficulty sleeping well, getting help and breaking out of the poor sleep cycle is a must for you.
You might also like...