Dealing With Psychosexual Issues With Hypnotherapy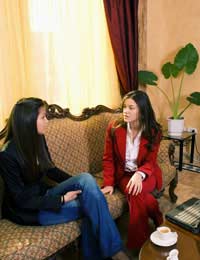 Issues around sexuality and sexual performance are of course sensitive ones. Sometimes it can be difficult to talk about or even find the right person to talk to. A professional person would understand how you feel and provide you with the right kind of atmosphere in which to express your concerns.
Not every hypnotherapist will deal with psychosexual issues simply because it is rather a specialist area. In the absence of a referral you may like to contact one of the registers of professional hypnotherapists for a list of those therapists in your area who do. Therapists who work with psychosexual issues, recognise that it may have taken enormous courage for you to seek help, and will do everything they can to put you at your ease.
Why Psychosexual
With the exception of some cases of impotence, sexual expression is very intimately tied in with the psyche. This means that beliefs about sex, previous experiences, unpleasant incidents and trauma can all affect your feelings about sex, your approach to it and your performance.
Premature Ejaculation
This condition where ejaculation occurs before penetration can understandably lead to anxiety about sexual performance. Very often what happens is that the person concerned tries to prevent ejaculation happening too early and creates tension in their body. Unfortunately, the more you try to stop it happening, the more likely it is to happen. This is known as the Law of Reversed Effect.
There can be all sorts of reasons for premature ejaculation and your therapist will explore these with you. They might include beliefs you have about sex or about yourself, or relate to some past sexual experience that is still having some effect on you. On occasion, particularly in a young person, it might relate to a sense of urgency.
Psychogenic Impotence
You should always see your doctor if you are experiencing impotence before consulting a hypnotherapist. The reason for this is that in some cases, the cause can be biological.If the cause is not biological, it could very well be psychogenic, that is its cause is psychological. As with premature ejaculation, experiencing impotence can lead to worry about it which can reinforce the problem. Stress, preoccupation with worries and tiredness can all cause temporary impotence, and these are all worth considering. Where impotence is of a more ongoing nature, your hypnotherapist will explore underlying beliefs around sex, or incidents or experiences which may have contributed.
It is important also to realise that the impotence you are experiencing could in some cases be the expression of a relationship issue. If this appears to be the case, then couples counselling might be worth considering.
Female Frigidity
Lack of ability to feel sexually aroused can again have a wide variety of causes. Sometimes a woman may have been fed all sorts of unhelpful ideas about sex as she was growing up. Even in the modern world, repressive attitudes about sex can be handed down from generation to generation. There may be a fear of being rejected after sex. It may relate to some difficult or traumatic past sexual experience which has caused a woman to 'switch off'. Inability to reach orgasm may also be part of the picture. A hypnotherapist will explore these issues sensitively with you, with the aim of helping you find pleasure and enjoyment in sex.
Vaginismus
This is where the muscles of the vagina contract preventing penetration. As well as causing difficulty with penetrative sex, a woman may also avoid gynaecological examinations. The reasons for this can be very similar to those already discussed above. Your hypnotherapist will work sensitively with you to neutralise the effects of any past experiences or beliefs that are contributing.
If you decide to explore hypnotherapy for any of these issues, make sure you feel comfortable with the therapist. It is important that you feel rapport and trust for the person you choose to work with.
You might also like...