Self Hypnosis or Hypnotherapy?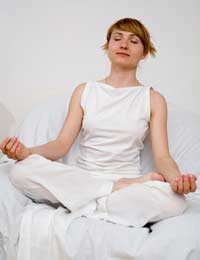 Hypnotherapy is a recognised form of therapy that is facilitated by a qualified therapist. It is a confidential one-to-one support service that can help improve problems and issues in many different areas of life. It can help diminish fears and phobias, help individuals quit smoking and ease depression. Working with a hypnotherapist, however, requires a commitment and financial investment. Self hypnosis, on the other hand, is an effective, less costly alternative.
Choosing Self Hypnosis
Self hypnosis is a natural, easy to learn deep relaxation technique, which can be taught by a hypnotherapist – so that individuals can maintain positive feelings when they are not in a confidential therapy session – or listened to on CD or MP3. The powerful techniques follow a script, which can also be read from a book and recorded on to tape. This provides a less expensive alternative to facilitated therapy sessions.
What To Expect From Facilitated Therapy
Facilitated hypnotherapy is made up of a number of important steps. They include preparation, induction into the hypnotic state, deepening, personalised therapy, which works on specific concerns and issues, and conclusion. With suggested follow-up sessions and exercises.
Most hypnotherapists will recommend a minimum of six sessions with a client. Over the course of the sessions the therapist will use preparation and deep relaxation techniques to enable the individual to remove lingering thoughts, so that focused awareness on a specific concern can be acknowledged. Shaping the personal script, so that it includes positive affirmations that are tailored to the individual, the therapist may also use a number of different exercises to relax the mind and body.
After the recommend number of sessions the hypnotherapist may suggest the client practices regular deep relaxation techniques at home. They will teach the client simple to follow self hypnosis exercises that they can use whenever they need to.
Continuing Therapy
An individual who has experienced facilitated hypnotherapy will know exactly how hypnosis works. They will be able to recreate the deep feeling of relaxation in the comfort of their home, by following techniques the hypnotherapist will have taught them. These self hypnosis techniques can be used to recreate positive feelings, refocus the mind and to add, and adapt, affirmations accordingly.
Practiced Learning
An individual who practices self hypnosis techniques using an audio aid will be able to access focused awareness by following the direct language commands and by absorbing the affirmations. Daily or regular use of these powerful deep relaxation techniques can provide a useful tool that tops up positive feelings. The more self hypnosis is practiced the greater the benefits and the outcome.
Choosing self hypnosis allows the individual to be in control of their own therapy. They can adapt the positive affirmations, as they work through individual concerns, and can dip into self hypnosis at whatever time is suitable for them. Whether it is short 10-15 minute bursts or a longer 30 minute deep relaxation session, the individual will be able to use simple techniques to create the mental focus and awareness they need.
The Options
Audio sessions can provide an empowering experience. Although self hypnosis is a simple, natural process that is easy to access and master some people may find it easier to achieve quicker results from facilitated hypnotherapy.
You might also like...