Quick and Easy Self Hypnosis Techniques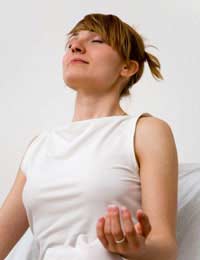 Inducing a state of deep relaxation through the use of self hypnosis is a simple process. Using audio materials also speeds up the relaxing session, as all that is required is that you find somewhere comfortable and quiet, before plugging in to the recorded direct language commands. Once you are familiar with the way self hypnosis works you may decide to experiment with guided imagery and levels of focus.
Easy Steps to Follow
Make sure you have a dedicated period of time at your disposal before embarking on a self hypnosis session. Half an hour is sufficient, although you may decide you free up a lengthier period of time.
Sit in a comfortable chair, with your feet placed firmly on the ground.
Close you eyes, and allow random thoughts to gently float away. If thoughts begin to intrude simply let them move through your mind effortlessly as they disappear.
Begin to take slow, deep breaths as you acknowledge any tension you may hold in your body. Imagine the tension gently easing out of your muscles as you begin to deeply relax. After a few moments your mind will become more clearly focused on relaxation and you are ready to explore mind control.
Useful Tips and Techniques
Before starting your self hypnosis session writing down a few suggestions that you may want to explore whilst you are deeply relaxed is a very useful exercise to practice. Having this visual reminder of the subjects that are on your mind will help you focus on specific concerns or issues with ease.
Picturing yourself in a natural setting like a peaceful garden or beautiful beach will enable your mind to relax with less effort. Take in the sights, sounds and smells as your mind begins to gently ease you deeper and deeper down the levels of total relaxation. Although it is difficult to self-assess just how deeply hypnotised you are, simply trust that if you feel sufficiently relaxed then you are at the required depth of hypnosis.
Counting down from 10 to one, as you imagine yourself descending a staircase, may help you focus your awareness more quickly and effortlessly.
If you are a little apprehensive about your initial self hypnosis session finding a recording of a session you can listen to will put your mind at ease. You may also consider visiting a qualified hypnotherapist for your first experience of hypnotherapy, as this will provide you a lasting memory of the relaxation therapy and offer you an opportunity to ask as many questions about the process as you like.
Warnings
Do not expect self hypnosis to address all of your problems, concerns and issues. Whilst deeply relaxing your mind will allow you to probe certain concerns it may not provide you with the sort of answers you may have been expecting. For deep-seated issues it is recommended that you seek professional advice from a qualified hypnotherapist.
As with any form of guided imagery, visualisation or meditation always allow sufficient time at the end of your session so that you are not rushed to return back to your normal chores without having grounded yourself properly. Rising too quickly after having been in a meditative state may cause your blood pressure to plummet, which will result in dizziness.
You might also like...