Increasing Personal Performance at Work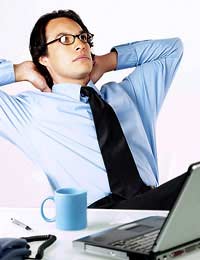 Self hypnosis is a useful method of focusing concentration, which can be used on just about anything that relies on your input. It can be used to improve personal performance in the sporting arena or to increase and enhance your performance in the workplace. Creating the ideal script for your personal requirements ensures that self hypnosis is put to the best use possible.
In The Workplace
To help increase performance in a work environment it is important to firstly identify your personal requirements. This will help you create the ideal script for the self hypnosis sessions. Self hypnosis can effectively be used to aid concentration, improve memory, as a means of removing mental blocks, as a learning and focusing tool and to improve study skills.
As you begin to regularly use the focused awareness of self hypnosis to increase personal performance at work, you can then tailor your scripts so that the focus is on improving motivation, decision making, presentation skills or any other area of business concern you may have. People working in Marketing and Sales careers, for instance, can benefit greatly from using self hypnosis to improve their persuasive qualities, as well as their general performance awareness and attitude.
No Limits
Although self hypnosis is a powerful mind tool that can be used in a vast number of ways to increase awareness, how many different things can be worked on at any one time depends on the individual. How strongly the subconscious mind is fixed to one particular thought pattern will also influence how many hypnosis projects you can tackle at once.
As a beginner it makes sense to focus your controlled awareness on one subject at a time, before moving on to the next concern. As you begin to grow more confident, in the use of self hypnosis, you can then start to progress on to subsequent projects.
For Your Convenience
Although facilitated hypnosis, with a therapist, is seen as superior self hypnosis provides an easily accessible method of tapping into your subconscious whenever, and wherever, the need arises. Not only does self hypnosis offer a controlled and convenient method of accessing powerful mind tools, and it is also free. Because a script is focused on a particular reason for the self hypnosis your focused concentration is driven by suggestion that will improve that specific requirement. As with any skill, however, self hypnosis does require regular practice in order to gain the best results from your efforts.
Powerful Techniques
There are many techniques that can be used to effectively increase performance and creativity in the workplace. This includes guided imagery, the direct language method and progressive relaxation.
Guided Imagery:This technique focuses your attention on a series of images, which are used to guide you into a trance-like state.
Direct Language:Focusing on the command of specific words, heard on a self hypnosis CD, increases the deepening of the hypnosis experience and opens your mind to suggestion more readily.
Progressive Relaxation:As you progressively focus on specific parts of the body you are able to tense and relax the area, which in turn enables you to achieve a state of focused awareness.
You might also like...