Handling Stress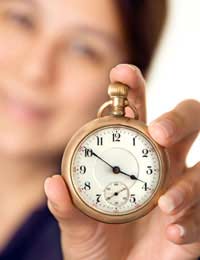 Many would agree that a degree of stress is necessary in order to appreciate life. Having challenges contributes to our sense of satisfaction and achievement. Conversely a life devoid of challenge can lead to flatness and depression. However, when the arousal is excessive, ill-health can result. Since people's reactions to life events can vary enormously, the point at which people feel excessively challenged varies too.
The Fight/Flight Response
Our bodies are beautifully designed to respond to danger. There is a mechanism for this known as the fight/flight response by which the body is prepared either to stay and fight or run away. Blood is diverted to the extremities away from functions such as digestion that will not be needed. In this way, the muscles of the body are tensed for action. More oxygen is required in the body, so breathing becomes faster. The adrenal glands secrete adrenalin whilst at the same time, the immune system is suppressed. When physical action has been taken, everything relaxes and normal functioning resumes.
Feeling Stressed
The fight/flight response is a primitive one designed to be called on when the human system is experiencing life-threatening situations. Unfortunately, we have the habit of invoking this response in many situations that are not life-threatening. Pressure at work, sitting in heavy traffic, frustration and many other situations can provoke this response. Thus, a person can spend a great deal of their time experiencing stress. Living in this way over a long period of time can cause health problems. Since the blood supply to the digestive system is reduced during fight/flight and the immune system is suppressed, it is therefore not surprising that symptoms of stress can manifest as digestive problems and susceptibility to infection. Exposure to long-term stress can result in more serious disease.
How Hypnotherapy Can Help
Clearly, anyone whose health is suffering because of stress needs to take action. There are many ways in which hypnotherapy can help you handle stress. A hypnotherapist will help you identify the ways you are currently responding to situations with a view to working with you to adopt healthier ones. You are a person with many resources which you can call on. One of the aims of hypnotherapy is to access these. A technique we sometimes use for this is known as 'anchoring'. This is a means by which a physical trigger becomes linked to a particular resource. A physical trigger could be created for example by squeezing together the thumb and index finger of a hand. Let us say that it would be useful to you to be able to access a state of calm at will. In order to achieve this, your hypnotherapist would take you back through several experiences where you have felt the desired state. Whilst reliving these experiences, you would be encouraged to fire your particular trigger as you felt the feelings of calm peaking. Having built the resource in this way, you would only need to use your trigger in a difficult situation to access feelings of calm.
You might be taught self-hypnosis. There are many ways in which this would be of benefit to you. Firstly, you would be allowing your body to experience the deep relaxation, necessary for breaking out of the stress state. You would also learn how to give yourself suggestions for coping differently in order to build on the work your hypnotherapist is doing with you. The visualisation you would be able to do would be a useful adjunct.
Depending on the nature of the stress, sometimes an unresolved issue is feeding the current feelings and your ability to handle stress. If this is the case, your hypnotherapist would be able to help you with this too.
Some people think it is a sign of weakness to admit to feeling stressed. Nothing could be further from the truth. Handling stress is simply good management of your body.
You might also like...