Improve Learning Skills using Hypnotherapy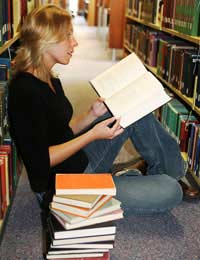 There are many factors which contribute to efficient learning. This is being recognised more and more in colleges and universities and 'study skills' are often included in the curriculum. Learning is therefore largely a case of knowing how to. Hypnotherapy can however help you improve your learning skills immensely.
Memory
There are specific ways of laying down information in your memory for the purpose of recall. Repetition is important here. By going over information on three consecutive days and then at regular intervals thereafter the information starts to be passed to your long-term memory.
Regular breaks whilst committing material to memory allow your brain to process the material. Organising your material in some kind of meaningful way can also assist the process. You can use hypnotherapy to reinforce the notion that you will remember the information and recall it. However, you must complete the steps required to memorise the material.
Getting Down To It
It is difficult to commit to study without a good reason to do so. Being very clear about why you are studying and what the reward is for you is important here. Studying requires commitment and discipline and being strongly motivated will help you focus and value what you are doing. Having a particular place to study is very important. Getting into the habit of studying in one place will create an anchor for you; that place will become linked with the activity of studying and facilitate your ability to get into the right frame of mind.
Setting yourself study time periods is important. Allowing these periods to be frittered away on other tasks will demotivate you. Apart from anything else, you will feel annoyed with yourself or guilty that you didn't use your time as you intended. You may even start to become more anxious as deadlines loom. Hypnotherapy and self-hypnosis skills can help you focus completely to the exclusion of everything else during these times. In this way, you can maximise your study periods.
Learning Attitudes
The beliefs you hold about yourself and your ability to learn will either be helpful or unhelpful. They will either contribute to your motivation and ease of learning or they will undermine you.
Within the education system itself, it is being recognised that people have different learning styles. There is also an awareness of learning difficulties such as dyslexia. Nevertheless, many people have had difficult learning experiences or been given the message that they are not very able. This is where hypnotherapy can really help you. This might involve identifying the source of those unhelpful messages in order to gain a new perspective. You can then work on developing more positive beliefs which you can reinforce through self-hypnosis.Taking a study skills course is a wise thing to do. Here you will learn useful study techniques and discover your own style of learning.
Exams
Some people have little difficulty with learning yet fear that under the pressure of exam conditions they will forget everything they know. There are many excellent candidates who do themselves less justice than they deserve because of this. It would be a great shame to allow exam nerves to undermine you. Here, hypnotherapy can help you a great deal. Being calm and in control under exam conditions is something you can achieve.
Acquiring knowledge is life-enhancing and therefore learning should be fun. Equip yourself with the learning techniques that suit you and then use hypnotherapy to gain that extra polish.
You might also like...