Infertility - Is it Psychogenic?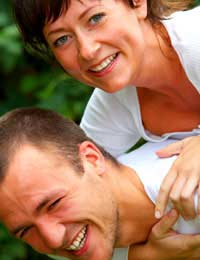 For anyone wanting to have a child the inability to conceive is naturally very distressing. Conception itself is a complex business and any couple experiencing infertility will be offered a battery of tests to ascertain whether there is any physical cause. Even so, for a percentage of couples, inability to conceive can remain a mystery with the medical profession unable to find any cause.
If you are amongst these couples, hypnotherapy may not be the first alternative you would think of turning to for help. However, consider this. Everyone knows of those cases where a couple apparently unable to conceive upon deciding to adopt a child, or simply on resigning themselves to that fact, have gone on to conceive naturally, to their surprise and delight. What has happened here? It is generally thought in these cases the strong desire to have a baby was creating stress and tension in one or both partners which translated into physical blocking in the body.
Stress and the Body
The effects of stress on the body cannot be underestimated, but stress can take many forms. It can be very obvious day to day stress, or it can be less obvious "back of the mind" type worry. This is where hypnotherapy can be very useful. Although statistics are not easily attainable, there are a percentage of infertility cases that are psychogenic, meaning infertility has a psychological cause. Stress of this nature can cause sperm count to drop, or create hostile cervical mucus in a woman.
Other Psychological Factors
Having a child is of course a major life event for anyone, and brings with it a wide range of responsibilities. Financial concerns might be part of the picture. A man may have children from a previous relationship and may have fears around having more children. A woman may have worries about her loss of independence, or her ability to be an adequate mother. There may be unresolved grief around a previous miscarriage, or guilt about a previous abortion. There may have been messages given to a girl whilst growing up that childbirth is painful and that it ruins your body. These are just some of the underlying issues that could block conception.
How Hypnotherapy Can Help
Very often it is the woman who seeks help from a hypnotherapist, but it may be necessary to see both partners. At an initial consultation a hypnotherapist would sensitively ask about your lifestyle, your relationship and childhood, and seek to elicit any concerns you might have about having a child. Sometimes the client is already aware of an issue that could be impacting on their ability to conceive. The hypnotherapist will in any case work with you in hypnosis to ascertain whether there is an underlying reason that is holding you back from achieving conception.
If stress is an issue, then some lifestyle changes might need to be considered which your hypnotherapist would discuss with you. Your hypnotherapist might also teach you self-hypnosis so that you can help yourself to relax and tap into your ability to cope more easily. If putting too much pressure on yourself to become pregnant is part of it, or you fear that time is running out, your hypnotherapist will help you with that too.
Once any underlying issues if any, have been cleared up, visualisation might also form part of the treatment protocol. We naturally visualise our goals, so this makes absolute sense. So a woman might be encouraged to see her womb as a receptive place for a fertilised egg, and to visualise this regularly. You might be encouraged to visualise a happy family unit. Creating a powerful picture that is meaningful to you is the key.
If you have been through the tests and are still trying to achieve pregnancy, then talking about it with a hypnotherapist and whether hypnotherapy might be able to help you is certainly worth considering. Although it is unknown just what percentage of infertility is psychogenic, there are enough happy stories to give this treatment some serious thought.
You might also like...