Stop Smoking With Hypnotherapy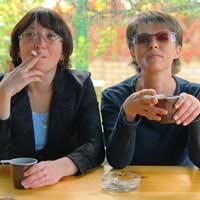 Thanks to the new legislation banning smoking in public places, many people are finding it's becoming more of a burden than a pleasure to continue smoking. There are many ways to stop smoking and choice of method really comes down to personal preference. If you want to stop smoking, researching the various options available to you and how they work will make your choice that much easier.
The Habit of Smoking
Many people who smoke believe they are addicted to nicotine and that it will be very difficult to give up. The jury is still out as to whether chemical addiction forms part of the reason why people continue to smoke. Some researchers claim that if there were indeed a chemical addiction, a smoker would have to smoke enough cigarettes on waking in the morning to restore levels of nicotine reduced during sleep.
What is agreed however is that smoking is a habit. A smoker will tend to smoke at certain times in certain situations and this repetition creates what is known as a conditioned response. A conditioned response is an automatic behaviour. Many smokers feel that the most difficult cigarette to give up will be the one they have with an alcoholic drink. This is where hypnotherapy comes into its own. Hypnotherapy addresses these psychological triggers and contributes to breaking the associations between smoking and certain activities.
Hypnotherapy Treatment
A hypnotherapist will find out from you when and where you smoke to ascertain your particular triggers. Most smokers will have one or two situations which for them represent the situations when they might feel most tempted to want to smoke. Your hypnotherapist's intention is to help you stop smoking and stay smoke free. Research has shown that a combination of hypnotherapy and other techniques is the most successful, so most hypnotherapists will have a range of techniques they will use with you. If smoking when stressed is an issue, your hypnotherapist might teach you a powerful relaxation technique so that you can very quickly access a deep state of calm should the need arise. You might be taught a thought-stopping technique so that should you find yourself thinking about smoking, you can interrupt that thought process. You might be taken through a mental rehearsal of your high-risk situations seeing yourself coping without smoking.
Your hypnotherapist will be very focused on emphasising the reasons why you want to give up smoking during the hypnotherapy session itself. They will also want to address any concerns you might have about your ability to stop. Thus, they will also tap into other experiences you have had of success and achievement and link these in with your determination to stop smoking. The emphasis in the hypnotherapy session is on reinforcing your own determination to stop and breaking your psychological triggers. It also addresses any concerns you might have about replacing cigarettes with food.
In most cases your hypnotherapist aims to help you stop smoking in a single session, which may be a fairly lengthy one. This is because, as anyone who has given up smoking before will know, it is much easier to just stop smoking than reduce the number of cigarettes you smoke in stages.
After Treatment
Largely due to what the public is exposed to on television regarding hypnosis, hypnotherapy is very often regarded as a magic wand. Therefore, many people assume they will never think about a cigarette again or have a craving. In many cases, that is exactly what happens but the reality is that even years after stopping smoking, a sudden desire to smoke can pop up out of the blue. That is why good hypnotherapy treatment often sends you away with various other tools to use should that occur. Some hypnotherapists also include a follow-up session in their treatment package to be taken within a certain length of time if the need arises.
Preparing Yourself for Stopping Smoking
The key to successful treatment is making that decision that you want to stop smoking. This might seem obvious, but sometimes people believe that hypnotherapy will make them stop. Indeed, before deciding to treat you with hypnotherapy, a therapist will want to make sure that you are definite in your wish to stop. The desire to stop has to come from you and not from a partner or family member. Once you have decided you want to stop, begin believing that you can do it. Remind yourself frequently of your reasons for wanting to stop and how much better your life will be without cigarettes. And of course, make your appointment.
Remember, many thousands of people before you have successfully given up smoking, and these range from the casual smoker to the chain smoker. Realise what you will gain from kicking the habit, in terms of your self-esteem it can be quite a lot.
You might also like...