Hypnotherapy and Drug Addiction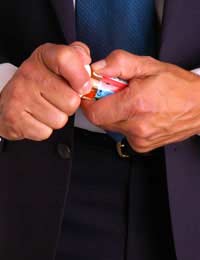 It is so easy now to obtain so-called recreational drugs that it is not surprising that addiction to these drugs is on the increase. However it is not just these types of drugs that are creating addiction problems. Prescription drugs also have their addictive quality.
Whenever you take a drug of any kind, your body chemistry is altered. This is inevitable. If you take an aspirin for a headache, your pain diminishes or disappears. In the case of a class 'A' recreational drug, you may experience feelings of euphoria. In both cases however, when the effects wear off you will have to take more of the drug to reproduce the effects. If your headache does not return, you will not usually feel the need to take another aspirin. If however you really enjoyed the feelings you had when you took a drug whether recreational or prescription, you may want to regain those feelings. It is often the desire for certain feelings that leads to dependency and addiction.
When someone decides they want to stop using a drug, it is usually because they recognise that the drug is doing them harm in some way. They may be aware that there is a physical price they are paying, or they may realise that the drug is masking their true selves. Very often the latter is the case with those who want to stop taking tranquillisers or anti-depressants. There can also be unpleasant side-effects such as tiredness.
Coming Off Recreational Drugs
It is important to know that if you have been using recreational drugs regularly for a period of time that you should consult your doctor before attempting to stop taking the drug. This is because in most cases, withdrawal from a drug needs to be medically supervised. This is for your own safety. Your doctor may also want to provide you with the kind of support network that would help you.
There are many ways in which hypnotherapy can help those who decide they no longer wish to take recreational drugs. There are hypnotherapists who specialise in this field, and it is highly recommended that you consult one of these practitioners. The professional hypnotherapy bodies will be able to tell you which of their members have training and experience in this area. You should discuss with your chosen hypnotherapist at what point you should start treatment with them.
Your hypnotherapist will assess with you what your needs are. Treatment might include resolving any issues that led to the addiction in the first place, working on self-esteem issues and building your strength and resources to stick with your decision.
Prescription Drugs
As with recreational drugs, a hypnotherapist will only work with you with your doctor's permission. Stopping many prescription drugs, particularly mood-altering ones, has to be done gradually. This is to allow your body to start increasing production of the chemical the drug was replacing.
There may have been events in your life that precipitated the prescription of a particular drug. For example, sometimes antidepressants are prescribed when there has been a death or other loss. These issues will need to be addressed in appropriate ways and this is where hypnotherapy can really help you. You will also be taught the skill of self-hypnosis to really reinforce the work.
It is important to know that using hypnotherapy as an adjunct to other treatments in halting drug addiction requires your full participation. Once you have made the decision that you are ready to stop taking the drugs, hypnotherapy can make the transition so much easier for you.
You might also like...
My grandson is addicted to KETAMINE and, although he claims to wish to stop, he is clearly unable to do so. Will Hypnotherapy help and what does the treatment cost?
l need help to get off of heroin and drink its been 20yrs and l have tried everything but still take drink and drugs help
Great writing above but there's one problem with any client going to a GP for guidance about coming of drugs etc via hypnotherapy. No GP unless trained has a clue about hypnosis and I've never come across one that supports hypnosis. This I believe has two reasons.1, The GP uses intelligence to come to the conclusion that hypnosis won't be effective because their intelligence screams out at them. 2, Any previous patient that's used hypnosis has more than likely not been successful because the hypnotherapist wasn't trained correctly and this makes the GP come to the conclusion that hypnotherapy is no good. I closed down 8 O.C.D s out of 12 in one session in a client and as part of a routine check up at the clients surgery she mentioned that she was made up with the work I had done. The GP's response was that will wear off and it's just a money making racket, thanks to this GP the client never came back to sort the other O.C.Ds out. Thanks Doc!
bongoboy
- 7-Jun-12 @ 7:42 AM
how much does the programme cost and how effective can this be?
harriet
- 10-Aug-11 @ 3:24 PM
Please contact me I need to help my sister quit smoking heroin and quit smoking.
kandie
- 11-May-11 @ 12:01 AM