Managing Pain With Hypnotherapy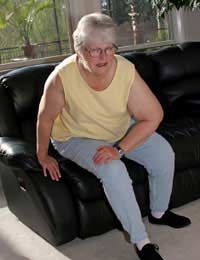 Perhaps one of the most well-known applications for hypnotherapy is in the management of pain. There is no doubt that one of the most debilitating experiences in life is that of pain.
At some time or another everyone experiences pain. However, there are many people who are subject to ongoing, chronic pain because of health conditions. These can include arthritis, rheumatism, glaucoma, post surgery pain, migraine and cancer, to name just a few. The ability to manage your pain with the use of hypnotherapy can dramatically improve your quality of life.
It is important to know that pain is the body's signal that something is wrong. A reason must therefore always be found for pain, and a medical diagnosis is necessary. We are talking therefore of managing pain rather than getting rid of it altogether.
Most of us have had the experience of reducing or anaesthetising our pain. When we knock ourselves, we automatically rub the area and this creates a local anaesthesia. On another occasion, we may distract ourselves from a headache by absorbing ourselves in an activity only to find later on that our headache has completely vanished. Recently, a self-hypnosis student told me that she had breathed away her burgeoning migraine as she was practising self-hypnosis and was able to get up within half an hour and get on with her evening.
Assessing Treatment for Pain Management
During an initial consultation, you may be asked some or all of the following:
The nature of the pain and whether it is acute or chronic
Other treatments being undertaken
How the pain affects your life
Activities you are unable to pursue because of the pain
What makes the pain worse or better?
Effects on mood
It is also known that the experience of pain is exacerbated or ameliorated by our expectations of it. Fearing pain such as during childbirth causes the muscles to tense and the secretion of stress hormones which exacerbate the pain.
Managing Pain
Once your hypnotherapist has a clear picture of your experience of pain, they can devise a treatment plan for you. One of the most well-known ways of managing pain is known as glove anaesthesia. Here you are encouraged in hypnosis to experience loss of sensation in a hand. Once you are able to experience this, it will be suggested to you that you transfer the resulting numbness to the part of your body where you are experiencing pain. Having been taught self-hypnosis, you will be able to do this for yourself at home.
If you are visual, an interesting way of reducing pain is to see the pain as an image describing its shape, colour, texture and temperature and transforming it into something acceptable.
Another method is to change the experience of pain into another sensation such as tingling, pressure or warmth. You can also be taught to transfer your pain to another part of your body where it will be less bothersome. Other techniques can include potentiating the effects of any medication being used. Associated conditions such as insomnia and depression can also be dealt with using hypnotherapy if present.
One of the major issues associated with experiencing pain is the feeling of being out of control. Hypnotherapy and pain management techniques can give you back control both of the pain and your life.
You might also like...