Enhancing Creativity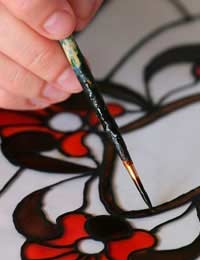 Do you think of yourself as a creative person? Have you chosen to make your living in one of the creative fields like writing painting, composing music or science?
In truth, everyone is a creative person. We bring our creativity to our day to day activities as much as to our creative projects. Cooking a meal and presenting it in a pleasing fashion is a creative act. If you enjoy cooking and do it on a regular basis, this expression of your creativity probably flows easily. You probably don't stress over it too much because you have faith in your abilities. What though if you have a burning desire to produce originality? Many artists have a desire to create something that will make people think or affect them at a deep level. Having your work seen may be as important as producing it for your own satisfaction. Under these conditions, there may be a certain amount of pressure attached to the creative act. You may feel anxious and lose any sense of playfulness when you're working.
Creative Block
Stopping and starting, scrapping ideas, taking one step forward and two steps back seem to be part and parcel of the early stages of a creative project. As you accept this process, very often something clearer begins to emerge after a period of time. Many famous names in history have recognised this fact. It seems the brain responds to periods of immersion and absorption followed by periods of setting the project aside. It appears that this allows the unconscious part of the mind to sort and put things together in perhaps unusual ways.
What though if you get to the point where you can't move on, or you cannot even get started? This is the scenario that creative people dread. It is the anxiety over feeling blocked that reinforces it. So a new approach needs to be taken. Reframing this period as the time during which your unconscious mind is searching and coming up with ideas for you can be useful.Self-hypnosis can help you here. During the hypnotic trance, you can give yourself suggestions that you will be able to get started or move on with your ideas. You can also give yourself suggestions to really enhance your creativity.
There is a story of a research scientist who uses something akin to self-hypnosis when he is working on a project. On retiring at night, he will spend some minutes thinking about his project. He will then visualise the end product in some form. He may see himself giving a seminar on the topic in question, or see himself receiving accolades for his work. Then he goes to sleep. On waking the following day, he invariably has the next stage of the project to work on. This is evidence of the value of trusting your unconscious. Indeed whilst you are asleep, your unconscious mind is working for you. Many creative people report having ideas when they wake in the morning.
Self-Criticism
Self-criticism can interfere in our lives at any level, but can be particularly devastating for the creative person who is intent on producing original work. Self-criticism can interfere with your enjoyment of what you're doing, cause you to hesitate excessively, encourage you to abandon projects and simply undermine you at every turn. Objectivity about our work is important, but excessive self-doubt can be crushing.
Perhaps your self-criticism has its roots in messages you have been given about yourself or your work in the past. Perhaps it stems from a lack of support and encouragement.
Hypnotherapy can help you deal with these old messages and give you the tools to be your own best support system.
If you have creative desires, you owe it to yourself to give yourself the best chances of fulfilling your creative urges. Using hypnotherapy to deal with any self-defeating tendencies, and learning tools to maximise the creative flow is a powerful thing you can do for yourself.
You might also like...